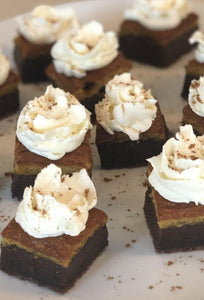 Chill in the air? You're probably craving pumpkin and spice! Featuring a brownie topped with a layer of pumpkin and finished off with cream cheese whipped cream, this brownie is the perfect way to welcome fall.
Sorry, but local only for this brownies.  Pickup can be arranged in the Akron, OH area. 
Allergy Info: Baking is done with flour, dairy, sugar and nuts on the premises. Those with severe allergies to these ingredients should err on the side of caution and avoid eating these brownies.