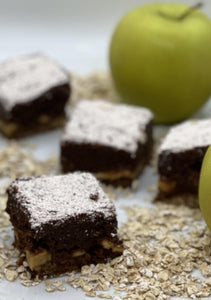 A brownie, a caramel apple, and an oatmeal cookie walk into a bar...
Salty caramel and apples are layered into this brownie.  Crunchy walnuts and oats are baked in, and the result is finished with a cinnamon powder.  This one smells so good you may want to let it breathe a little before you devour it.

Local pickup can be arranged in the Akron, OH area.

Allergy Info: Baking is done with flour, dairy, sugar and nuts on the premises. Those with severe allergies to these ingredients should err on the side of caution and avoid eating these brownies.