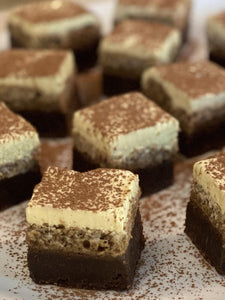 Tiramisu means "pick me up," and this brownie lives up to its name. We start with our original brownie, add a layer of lady fingers soaked in espresso and rum, and top it off with creamy mascarpone. Mangia bene!


Sorry, but local only for this brownie.  Pickup can be arranged in the Akron, OH area.

Allergy Info: Baking is done with flour, dairy, sugar and nuts on the premises. Those with severe allergies to these ingredients should err on the side of caution and avoid eating these brownies. 
Consumption of raw or under-cooked eggs  may increase the risk of food-borne illness.